Festival @ Podium 19
<
>
Two concerts of the Festival van Vlaanderen Mechelen / Kempen will be broadcast on Podium 19, the new and free culture channel. You can go to Podium 19 for virtual performances, performances and concerts from the Flemish culture houses. Podium 19 can be seen on channel 19 of Proximus Pickx (channel 269 from Brussels or Wallonia), channel 99 from Telenet TV, channel 20 from Orange TV and postponed via VRT NU. More info on www.podium19.be.
Podium 19 & Ludwig van Beethoven on 26.02 at 22:53: Beethoven Equales & Heiliger Dankgesang
LUNALIA celebrated Ludwig van Beethoven's 250th birthday with The Beethoven Physical Distance Experience, an innovative digital project. Because special times call for special projects. Part of this project were the recordings of the Equales and the Heiliger Dankgesang.
You will first hear the Equales for trombone quartet by Thomas Moore, Lode Smeets, Søren Brassaert (tenor trombone) and Bram Meese (bass trombone) in the Onze-Lieve-Vrouw-over-de-Dijlekerk in Mechelen. Equali is a name for pieces for equal voices or instruments. They often have a mourning character.
You will then hear his Heiliger Dankgesang for string quartet by Kwartz Quartet: Fien Van den Fonteyne, Eline Pauwels (violin), Ngoc Phung Ha (viola) and Herlinde Verheyden (cello), also recorded in the Onze-Lieve-Vrouw-over-de-Dijlekerk. In 1825 Ludwig van Beethoven had to stop composing his 15th String Quartet for several weeks because he was very ill. After this hellish period he also wrote his doctor a small canon: "Doktor sperrt das Thor den Todt, Note hilft auch aus der Not." There, Beethoven's "Rumpelsteel Humor" shows itself again, but he became more serious in the third movement of the String Quartet, where he literally thanks the higher powers for his healing. He even literally writes "feeling new strength" in the score. May it be a song of thanks to the music, to life. This concert can be viewed on Podium 19 on Friday 26 February at 22:53 or watch it again for free via VRT NU.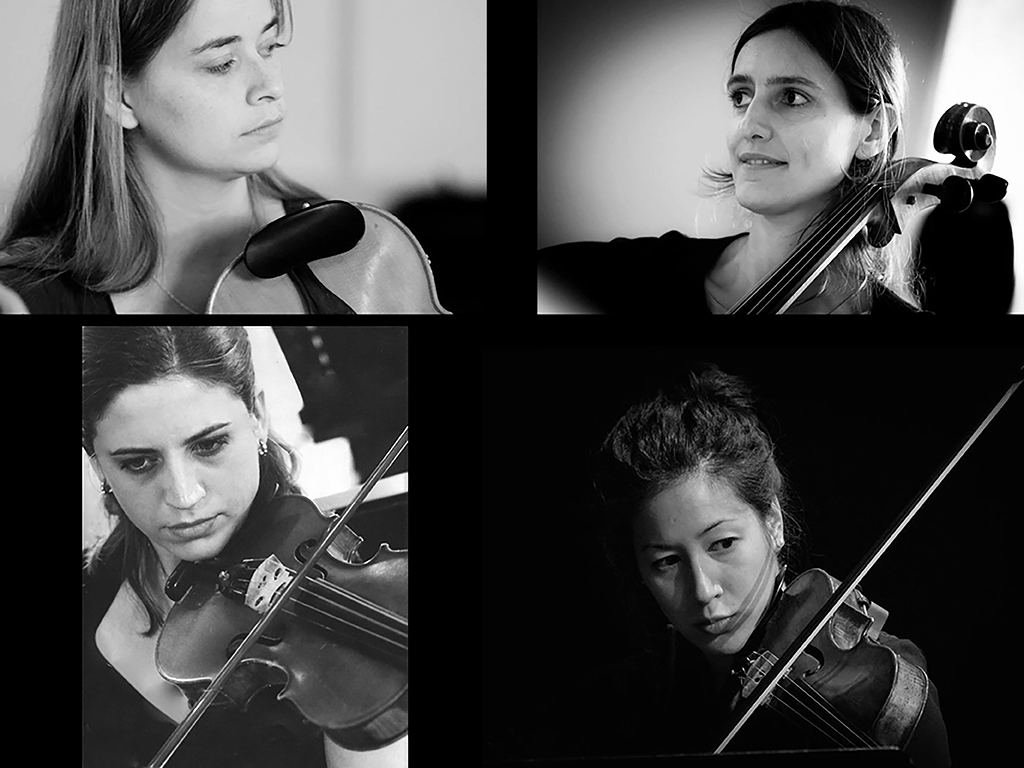 Podium 19 & Musica Divina on 27.03 at 23:15: Bach & Benjamin
Under the motto 'Oxygen for the soul', Musica Divina brought heavenly music to the Kempen in ten live concerts in the early autumn of 2020. As a festival that focuses on silence, relaxation, reflection and the religious heritage of the Kempen Region, it contribute to the principle of a healthy mind in a healthy body. After all, music provides healing, beauty and occasionally even an experience of the sublime. Because that's what Musica Divina 2020 wants to offer: Oxygen for the soul. And in corona times, this motto and the live experience of music are more than ever necessary. This festival edition was dedicated to all healthcare providers with the utmost respect.
Benjamin Glorieux lets the cello sound masterfully. In the programme "Bach & Benjamin" he performed the infamous first three suites for cello by Johann Sebastian Bach on 3 October 2020 in the beguinage church of Hoogstraten. Benjamin Glorieux is a true explorer in music, a soul that searches for the true, good and beautiful that is hidden in sound. Experience Oxygen for the Soul! This concert can be viewed on Podium 19 on Saturday 27 March at 23:22 or watch it again for free via VRT NU.
Musica Divina is the autumn festival of the Festival of Flanders Mechelen / Kempen. With almost 1500 visitors in nine cities and municipalities, Musica Divina managed to safely organize a nearly sold-out live and international festival in these complex times. Thanks to the musicians, the visitors and the partners who made it possible. As musicians and visitors agreed: It was truly oxygen for the soul.